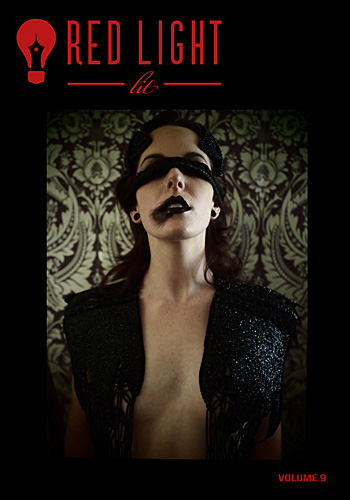 RED LIGHT LIT
Volume 9: Blind Games
7 x 10
PB
•
104
Pgs •
$20.00
• ISBN
978-1-60052-123-2
Red Light Lit is a reading series and quarterly art and literary journal founded in 2013. It consists of emerging writers and artists who delve into the senses with sophistication, humor, and wit. The content is lyrical, honest, and raw.
For Volume 9, the writing and art submissions were open and we allowed a theme to emerge. Sarah Bethe Nelson's poem, "Blind Games," resonated with all the other poetry and prose, and its title influenced the selection of art, including the cover "The Binding Braid" series by Lucille Lares-Kiwan. We all go into relationships or situations blindly, not knowing what will happen next or what is driving us. It takes distance and experience to unpack these tastes and scents from our memories. At times, these games pay us in wisdom like in Steven Gray's "Sex on the Beach," Tomas Moniz's "Learning to Look at Myself," and Kacy Cunningham's "Late Night." Other times, they are completely "Unwise," as Peter Bullen's story illustrates. In the pages of this issue, you will look behind the blindfold of self-exploration.
Featured writers: Sarah Broderick, Peter Bullen, Jose Cadena, Michael Cantin, Marc Capelle, MK Chavez, Kacy Cunningham, Allyson Darling, Fred Dodsworth, Stephanie Doeing, Steven Gray, Miah Jeffra, Nick Johnson, Sarah Kobrinsky, Loria Mendoza, Tomas Moniz, Ari Moskowitz, Andrew Murphy, Mike Murray, Sarah Bethe Nelson, Bette O'Callaghan, Chris W. Parker, Nathan Proctor, Steve Sachse, Jeri Thompson, Amy Turner, Rebecca Vanervoort, David Welper, and Stephanie Zappa.
Featured artists: Nicolas Alias, Chris Bean, Akira Beard, Justin Frahm, Walter Hagstrom, Anthony J. Hall, Lucille Lares-Kiwan, Kana Manglapus, Morgan Miller, Laura Moreau, Syrie Moskowitz, Jennifer O'Keeffe, Chris W. Parker, Eric von Pingel, Deborah Rhea, and Raynie Alexandria Vratari.